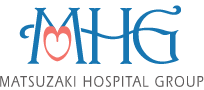 経営理念
Corporate Principles
これからも地域に根ざし、住民のみなさまの健康を守るため、最良の医療を行い社会に貢献します。
みなさまに愛され利用される病院として、今後とも変わらぬご支援をよろしくお願いいたします。
Matsuzaki Hospital's vision is to be distinguished by excellence in quality, service, convenience and value to its patients.
It will be the preferred hospital in its service area while developing an increasingly comprehensive array of services.
These services will be designed to meet the evolving needs of patients, communities and other customers.
This will be accomplished through the continued development of a quality, professional workforce.